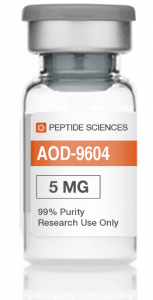 AOD 9604 was originally developed to be used as an anti-obesity drug. It was marketed as a means to help burn fat to enable individuals to lose weight like they wanted. AOD 9604 itself is a modified fragment of HGH (Human Growth Hormone). Injecting AOD has been shown to stimulate the pituitary gland to produce growth hormones such as HGH. These hormones improve metabolism to bolster weight loss.
The injections stimulate lipolysis, regulate fat metabolization, and prevent lipogenesis. Effectively they prevent fat from being produced while boosting fat loss. As such, the body burns through more fat and users can burn more calories than they would otherwise have done through diet and exercise. This leads to greater weight loss across a shorter period of time for users. One benefit of using AOD is that the weight loss comes without the negative effects some users experience with HGH and other supplements for weight loss.
How to Use AOD 9604
AOD injections are administered subcutaneously, similar to HGH. This allows for the peptide to get into the bloodstream faster to deliver more immediate results. It is best to inject the peptide during the morning, before breakfast. There are no stipulated doses attached to AOD 9604, but most users stick with around 300 mcg/day to get the best results.
It's important that you understand how AOD 9604 interacts with any other supplements, drugs, or injections you are taking. This way, you can get the best possible results. You may also need to take a different dosage depending on the other supplements you are using. It's worth taking the time to talk to a healthcare professional before taking this supplement. This guarantees you will get safe and effective results and get you off on the best foot with your AOD 9604 cycle.
Benefits of Using AOD 9604
AOD 9604 is primarily marketed as being an anti-obesity drug to help people lose weight. It targets areas that have abnormally high levels of fatty deposits in particular. It offers the same benefits of HGH, but it doesn't impact blood sugar levels or IGF-1 levels like HGH does. People who take AOD 9604 can get the benefits of HGH without the side effects that they could have experienced when taking human growth hormone to lose weight.
AOD 9604 works by helping to regulate metabolism for effective weight loss. It speeds up metabolism to increase calorie burning and fat burning, giving much faster and more efficient weight loss results in less time. Eliminating fat cells allows the body to fucos on boosting metabolism and preventing lipogenesis.
The people who stand to benefit the most from taking AOD 9604 are those who are following a diet and exercise regimen. The peptide helps to promote greater weight loss results. It ensures that your body has a higher calorie burn across the day.
AOD has also been shown to have regenerative abilities. It helps people who suffer from conditions such as osteoporosis and osteoarthritis to manage their conditions. It can help to improve bone density and strength to reduce long-term wear and tear on joints and muscles.
While AOD is available as both an injection or a troche, the injections have been shown to offer the best possible results to users. As the injections are administered directly to the bloodstream, the body can collect and absorb more of the dose when it is injected. Anyone who wants to lose as much weight as possible in as short an amount of time as possible should stick with injections when taking AOD 9604.